My awesome friend Robyn, told me about gifts from shutterfly.com, specifically the Videogram. You can make a videogram that has all your pictures of you and your family or spouse, put music to it, and give it as a gift all for $4.00-$10.00! It's such a good deal, and a really nice gift for your loved one that you'll want to keep forever! My husband did this for me of all our engagement pics, and I loved it! Shutterfly.com also has a whole list of gift ideas you can do through them that are worth checking out, and they make it so easy!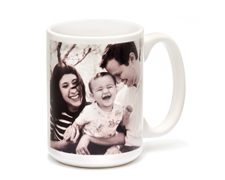 They also make stuff like mugs, desktop plaques, iphone

cases, and much more! Look how cute this looks!